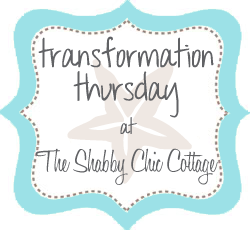 Welcome to Transformation Thursday! It's the one day of the week we all get together to celebrate getting stuff done. No matter if you've been coming around for months (or years), or this is your very first transformation rodeo – everyone is welcome to link up your projects at the bottom of this post.
Next week Transformation Thursday will be the 2nd anniversary of celebrating getting stuff done! Can you believe it's been two whole years? Crazy! I'm so honored that this has grown into such a wonderful collection of creative, supportive bloggers who strut their stuff every week. Thank you for being a part of it! So bring your best next week – we're gonna celebrate!
Almost 2 years ago the girls & I built this little porch for Mr. SCC. We did it on a shoestring budget of $200, and had a blast. We spend a huge chunk of time out here, hanging out, eating, reading, I even blog & work on Etsy stuff out here when the weather is right. Although we love the space, we never really liked the railing or color. With a $5 bunch of spindles & some $10 oops paint, it was definitely a "use what you have" project.
After we went to
Tybee Island
back in March, I've been dreaming of picket fences. Our yard is waaaayyyyy to big to have that much picket-ness, but I had another idea in mind – our porch.
Two years later, my porch is prettier than ever! A total DIM (do it myself) project, Project Porch 2.0 was another Mr. SCC-free production.
I cut, sanded, hung & painted every inch of the railings, one by one..
I even hand built a gate for the porch – without a consult!
  I repainted the bench we built, just touching up the top with the same light aqua that I chose for the floors (Cool Sausalito by Dutch Boy). I didn't touch the yummy chippy legs – I like 'em as is. The sign is painted my beloved Hawaiian Sky (also by Dutch Boy) – it's perfect for all those swimming clothes & towels that pile up during the warm weather.
Red is a new twist for me, I'm usually all neutrals & aqua, but this fun fabric caught my eye and I just had to have it… love the pop of color it brings.
Buckets under the bench help keep up with essentials like flip flops & water guns.
More vintage buckets hold croquet & bocce balls – our favorite summer pasttime.
Anyone fancy a game?
Eating al fresco is always a good idea. Mr. SCC and I start each and every day with coffee on the porch – rain or shine, hot or cold – it's our "thing."
He cut down our old dining table and made it fit the porch – gotta love free stuff!
 The old paint was a little chippy… but I didn't care. I sprayed it down with my favorite spray paint (Krylon Pebble) and then flaked off the chips so it would look aged even though it was freshly painted. Notice it's wet? That's because every thing on this porch has to be wash & wear, baby! The light floors (painted with porch & floor paint for durability) have to be sprayed off every day… but I actually like doing it. Instant gratification – gotta love those kinda rewards.
I reused our old dining room chairs – they just fit so perfectly – and you can't beat free!
All total, I spent $40 on wood, $28 on paint & $10 on fabric – still less than $100 and it looks like new in just a few days.
Bring it on, summer!
Sooooooo……. whatcha got? I wanna see – and so does everybody else! Please put your PERMALINK into the linky – and link back here so everyone can find all the great ideas. Please, please, PLEASE – pretty please DO NOT LINK TO A SHOP!!! Be sure to visit your neighbors and have fun – it is a party after all.
Welllllllll…………. Let'er rip, tater chip!