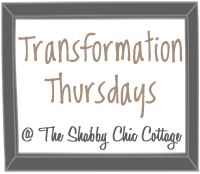 Welcome once again to Transformation Thursday! It's the one day of the week we all get together to celebrate getting stuff done. No matter if you've been coming around for quite a while or this is your first time, everyone is welcome to share their projects, big or small. Just link up at the bottom of this post.
I teased you last week about painting a gold frame that I got at my favorite thrift shop for $1. Welllll… I don't have the before photo (bad Gina!)…. but I do have an after! This was an old mirror, and I knew it would make something fabulous. I started to make it into a chalkboard… but that's a little predictable. 
After painting out the great frame, I cut a new backer, using the old one as a template. I spread glue all over the back of it with my favorite Speedball roller.
Next, I put a sheet of cork on the backer, then weighed it down with lots of heavy reading material.
Once dry, I popped it back into the frame, and now Lala has a new, snazzy memo board!

Soooo…. whatcha got? I wanna see and so does everybody else! Just put your PERMALINK into the linky, and please link back here so everyone can find the great ideas. DO NOT link to an Etsy shop, online store or other selling venue. Be sure to say hi to your neighbors – it is a party after all. Welllll….. let'er rip, tater chip!