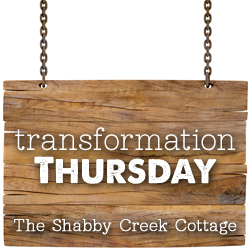 Welcome to Transformation Thursday! It's the one day of the week we all get together to celebrate getting stuff done. No matter if you've been coming around for months (or years), or this is your very first transformation rodeo – everyone is welcome to link up your projects at the bottom of this post.

A couple of weeks ago, while I was working at the shop, a regular customer came in to look for a chair. Jane had bought the sheet music desk that I sold a couple of months ago, because her daughter fell in love with it. She'd been searching for a chair to go with it, with no luck. I offered to do a custom one for her, so she gave me some ideas about what her daughter would like. I found a chair and got to work.
First I gave it a fresh coat of Paris Grey – then I traced a crown graphic on the back using carbon paper. I used
this crown
from The Graphics Fairy – but changed it to shadow for the silhouette.
I carefully painted on the crown and then recovered the seat with a pretty French inspired fabric. I love projects where you can do one step while another is drying. Sooo nice!
I hope Jane and her daughter love the chair as much as they do the desk. It was a little time consuming, but so worth the results!
Sooooooo……. whatcha got? I wanna see – and so does everybody else! Please put your PERMALINK into the linky – and link back here so everyone can find all the great ideas. Please, please, PLEASE – pretty please DO NOT LINK TO A SHOP!!! Be sure to visit your neighbors and have fun – it is a party after all. *Please note: If you link up you are giving me permission to use your photos on my blog without contacting you (don't worry, it's only to show off your beautiful stuff!)*
Welllllllll…………. Let'er rip, tater chip!