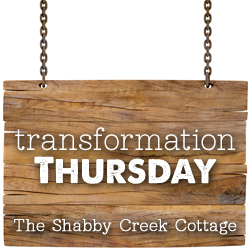 Welcome to Transformation Thursday! It's the one day of the week we all get together to celebrate getting stuff done. No matter if you've been coming around for months (or years), or this is your very first transformation rodeo – everyone is welcome to link up your projects at the bottom of this post.


Last week I took a trip to Portland, courtesy of Pennington Seed. Now I'll be the first to tell ya, I don't know nothin' about no seeds. The redneck in me says "If it's in my yard and it grows green then it's grass", right? Well turns out I was 99 kinds of wrong. Apparently there's some serious science behind creating the perfect grass seed.

I know, I know, you don't really want to see a sponsored post on Transformation Thursday, but bear with me 'cause this stuff is really kinda cool. I learned so much from the folks at Pennington Seed that completely transformed the way I think about having a beautiful (& environmentally friendly) lawn.  As one of the largest manufacturers and distributors of lawn, garden and turf care products in the
world, Pennington Seed, Inc. invited me and other bloggers to take part in a unique experimental opportunity to gain a behind-the-scene perspective on grass seed, so there was a lot to learn.
The three best tips I learned? Well funny you should ask 🙂
First – you need to test your soil. Yep, get a little geeky with it! This will tell you all kinds of good stuff – like if your soil is too acidic or not acidic enough. This is where you tap into that part of your brain that your chemistry teacher infected. All that stuff you never thought you'd never in a million years use – that part. If you read the directions, it will tell you exactly where you need to be.
There were some questions on Facebook & even on my post about going to Pennington last week – and it turns out that moss & a lot of other issues can all be solved by testing your soil. Oh – and did you know that it's a total DIY project now? Yep, it sure is!
Second – once you have the ground work done (haha – I made a punny!), then you need to tackle the bad stuff. You know, the dandelions, clover, wild onions…. all those "green" things that aren't grass. The Pennington crew tells me that the best product to battle the bad is Round Up – in fact it's what they use on their own farms.
Third – the seeds you buy now ain't your grandma's seeds. Well maybe they are if your grandma is buying seeds these days…. but you get the drift.
Today's seeds are the direct result of decades of research to make them grow greener for longer with less water – much less water.
Pennington's Smart Seed
uses up to 30% less water – which saves the typical homeowner $150 per year.  More technically – every bag of Pennington Smart Seed™ contains pure seed and no filler or heavy coating. The benefit of the pure seed is grass that is more resistant to disease, insects and drought. Pretty snazzy, huh?
Pennington Seed
even has a nifty product that will seed & mulch for you in one step – and – bonus – you will get a full growth in 4 weeks! It works best for small patches, so if you have a little spot in your yard that's kinda bald, it's just what you need. 
I know there's a TON of other questions, and I'll get some more of them answered in a couple of days – but I just wanted to share a little of what I learned 🙂
Disclosure Statement: Pennington Seed, Inc. and their parent company Central Garden & Pet partnered with bloggers such as me to help educate us all about grass seed. As part of this program, I received compensation and was hosted by the company for a kickoff event. They did not tell me what to purchase or what to say about the use of the products. Central Garden & Pet believes that consumers and bloggers are free to form their own opinions and share them in their own words. Central Garden & Pet's policies align with WOMMA Ethics Code, FTC guidelines and social media engagement recommendations.


And, as promised – here are the top 3 projects from last week:

1: A beautiful cabinet makeover by home made 2: Strawberry themed birthday party (too cute!) by Desperate Craftwives & 3: Fabulous laundry room make over by Start at Home


Remember – to be featured you must link back to the party in your post (a text link is a-ok). You can still link up on a party page or sidebar, but to be highlighted you must include the link in your post.
Sooooooo……. whatcha got? I wanna see – and so does everybody else! Please put your PERMALINK into the linky – and link back here so everyone can find all the great ideas. Please, please, PLEASE – pretty please DO NOT LINK TO A SHOP!!! Be sure to visit your neighbors and have fun – it is a party after all. *Please note: If you link up you are giving me permission to use your photos on my blog without contacting you (don't worry, it's only to show off your beautiful stuff!)* Welllllllll…………. Let'er rip, tater chip!