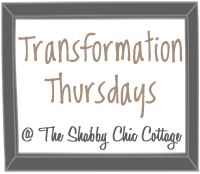 Welcome once again to Transformation Thursday! It's the one day of the week we all get together to celebrate getting stuff done. No matter if you've been coming around for quite a while or this is your first time, everyone is welcome to share their projects, big or small. Just link up at the bottom of this post.
In case you haven't heard, this week
 go enter, we'll wait…….
The very first project I made with the sweet machine that the Silhouette folks sent me was to make this sign. Wanna make one? They're easy!
Put your basecoat on your board – whatever color you want the letters to be.
Then using Silhouette vinyl, cut out the saying you'd like.
Either using transfer paper or moving the letters one by one, put them on the basecoat. Rub them well to ensure they are down.
Next, carefully paint a thin layer over the top of the letters. This helps seal them. Next, put at least two more coats over the entire sign. After it is completely dry use an Exacto knife to peel up the letters.
Sand a little to distress and you're done! Gorgeous sign, little time. Gotta love that!

Sooooo whatcha got? I wanna see and so does everybody else! Please put your PERMALINK to your post, and link back here so everyone can see. DO NOT link to an Etsy shop, online store, etc. or I will delete your post (please don't make me be a big meanie!) Make sure to visit your TT neighbors so everyone gets a little love.
Welll…. let'er rip, tater chip!