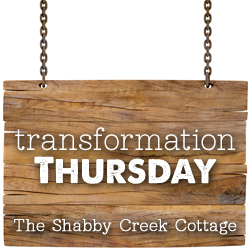 Happy Transformation Thursday! It's that one day each week were we all get together to give each other atta girls (or boys) for getting something done! Everyone is welcome to link up their DIY projects, crafty goodness, recipes and more at the bottom of this post – no matter if it's your very first time joining or you've been hanging out with me each months for years. You can find the link up at the bottom of this post
Usually I feature some of the best posts from the previous party – but this week is an exception. I have an AMAZING giveaway for you… but first let's take a little look see at a recent trip I took. Last week the mister and I celebrated our anniversary – so we took a day off to just goof off and hang out together. We did a little driving, a lot of shopping and enjoyed spending a whole day of pretty much doing nothing. When we were wandering around, we found ourselves in Cullman, AL at a shop I'd been wanting to see forever, Southern Accents Architectural Antiques. 
Rows and rows of lovely, chippy, antiquey stuff. 
And then… when I thought I'd soaked up all the divine-ness of it all…. there was another building. 
So we went out the back and up the stairs. 
And the wonders of my world just kept going. 
Once I'd ooohhhed and aahhhhed for way too long, Mr. SCC said, "Did you see the stuff outside?" WHAT?!?! Yes, there was even more!
A long line of over-loved tubs, ready to be brought back to life again…
Sinks in every shape and size.
Then I found a huge lot of metal fire place surrounds…
I didn't have my measurements (because I had NO idea that I'd find one) but I'm definitely going back to scoop up one of these beauties!
Metal and iron work for days.
See…. it's a dream world, right? If you live anywhere in the southeast – you have to make time to go and visit! Be sure to block out a good chunk of time, because you'll be wandering around forevah like I did 🙂
Speaking of new, if you want to see all the new lovelies that they have coming in, be sure to visit them on Facebook often (go ahead and give it a like… you know you wanna!) If you do stop in to shop – make sure that you "check in" while you're there. If you show them at the register that you've checked in via Facebook, they'll give you 10% off your order. Love that!
REMEMBER: To be featured on the Facebook page or Transformation Thursday Pinterest Board – you must have the link directly in your post. You can still link up with a link back on your party page or sidebar, but to get featured you must link in the post, m'kay? 
Ready? Set? GOOOOO!!!!