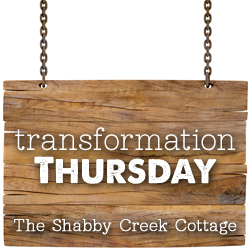 Welcome to Transformation Thursday! It's the one day of the week we all get together to celebrate getting stuff done. No matter if you've been coming around for months (or years), or this is your very first transformation rodeo – everyone is welcome to link up your projects at the bottom of this post.
For several weeks now we've been highlighting some of our favorite Transformation Thursday ideas over on Facebook and on Pinterest.

We, as in me & my side kick/assistant Sunny Tuesday. She's been hanging out behind the scenes, cleaning up my mess of a Facebook page – and giving me some great ideas on how to feature you guys better. Since Jessica is a local friend, we had lunch together earlier this week and she had some brilliant plans.
From now on, each week we'll be spotlighting your great ideas on Facebook. Jessica usually posts 2-3 a day, and at the end of the week the 3 posts that have the most "likes" and/or comments will get a spotlight here on the blog. Here is the only catch: to be featured you must link back here in your post.
Now I understand that a lot of you put the link in your sidebar, on your party page, etc. – and I'm completely fine with you linking up to the party with those kinds of link backs. However, to be highlighted on Facebook, Pinterest or here on the blog, you must link in the post. It would be a HUGE help if you watermarked your photos (but that is not required.)
I know this is a big change – but I'm excited to share your links & I hope you're excited about it, too 🙂

Sooooooo……. whatcha got? I wanna see – and so does everybody else! Please put your PERMALINK into the linky – and link back here so everyone can find all the great ideas. Please, please, PLEASE – pretty please DO NOT LINK TO A SHOP!!! Be sure to visit your neighbors and have fun – it is a party after all. *Please note: If you link up you are giving me permission to use your photos on my blog without contacting you (don't worry, it's only to show off your beautiful stuff!)* Welllllllll…………. Let'er rip, tater chip!