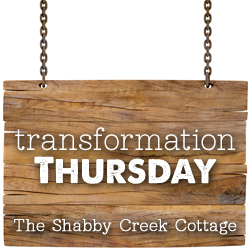 Welcome to Transformation Thursday! It's the one day of the week we all get together to celebrate getting stuff done. No matter if you've been coming around for weeks, months, years, or this is your very first transformation rodeo – everyone is welcome to link up your projects at the bottom of this post.


I'm so glad everyone showed up last week while I was away at SNAP! I was kinda scared since I was away no one would join in… whew! that was a close one 🙂 But, just like always, y'all bring all the beautiful ideas. Ashbee Designs shared this monogram book – which is perfect for all those dime a dozen Reader's Digest books that you see at every yard sale.

The warmer weather is finally here – and Life as a Thrifter celebrated her little one's 2nd birthday with an ice cream party. Love all the colors – and the yummy theme!

Sooooooo……. whatcha got? I wanna see – and so does everybody else! Please put your PERMALINK into the linky – and link back here so everyone can find all the great ideas. Please, please, PLEASE – pretty please DO NOT LINK TO A SHOP!!! Be sure to visit your neighbors and have fun – it is a party after all. *Please note: If you link up you are giving me permission to use your photos on my blog without contacting you (don't worry, it's only to show off your beautiful stuff!)*
REMEMBER: To be featured on the Facebook page or on next week's party – you must have the link directly in your post. You can still link up with a link back on your party page or sidebar, but to get featured you must link in the post, m'kay?
Welllllllll…………. Let'er rip, tater chip!