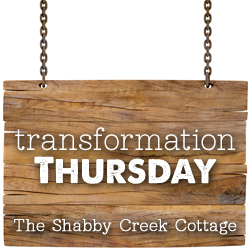 Welcome to Transformation Thursday! It's the one day of the week we all get together to celebrate getting stuff done. No matter if you've been coming around for weeks, months, years, or this is your very first transformation rodeo – everyone is welcome to link up your projects at the bottom of this post.

This week I've been CrAzY busy working on a brand new issue of Splendidly Homemade. Yes, my friends, it's on the way – and I can't wait for you to see the amazing jam-packed issue that we have created! Keep your eyes peeled – it'll be coming soon 🙂

Y'all have been crazy busy coming up with more amazing ideas, huh? I should be used to this by now though – y'all are always bringing the awesome sauce to the party! Did you catch this Kitchen Fairy Garden by Organized Clutter?
This printable from Second Chance to Dream is a beautiful graphic with a great reminder. And the waves….. ohhhh the waves!
Since we skipped last week for a giveaway, this sweet chair redo was actually from 2 weeks ago – it was shared by Embracing Change. Love that sunshiny yellow!
And…. last but certainly not least…. is this GORGEOUS stenciled table from Domestic Imperfection. Holy paisleys, bat bloggers! To. Die. For.
Sooooooo……. whatcha got? I wanna see – and so does everybody else! Please put your PERMALINK into the linky – and link back here so everyone can find all the great ideas. Please, please, PLEASE – pretty please DO NOT LINK TO A SHOP!!! Be sure to visit your neighbors and have fun – it is a party after all. *Please note: If you link up you are giving me permission to use your photos on my blog without contacting you (don't worry, it's only to show off your beautiful stuff!)*
REMEMBER: To be featured on the Facebook page or on next week's party – you must have the link directly in your post. You can still link up with a link back on your party page or sidebar, but to get featured you must link in the post, m'kay?
Wellllll…. let'er rip, tater chip!
____________________