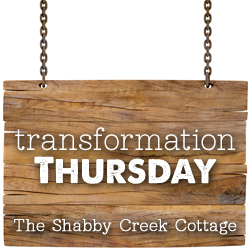 Welcome to Transformation Thursday! It's the one day of the week we all get together to celebrate getting stuff done. No matter if you've been coming around for weeks, months, years, or this is your very first transformation rodeo – everyone is welcome to link up your projects at the bottom of this post.


Last Friday I shared a little transformation of my own, a DIY Solar Light. It's cheap, easy – and YES it works even with the shade 🙂 Now let's see what y'all did last week…
Malia from Yesterday on Tuesday made this sweet lamp using graphics from The Cottage Market. Oh and she used Krylon… ya'll know how I feel about spray paint. I'm LOVING this one! Too, too adorable!
Maybe it's because I'm on a new mission to eat healthier, move more and lose weight… but these Hot Chocolate Oreo Muffins from Alli 'n Sons is tempting my will power. Aw, man, those look sooooo good!
Sooooooo……. whatcha got? I wanna see – and so does everybody else! Please put your PERMALINK into the linky – and link back here so everyone can find all the great ideas. Please, please, PLEASE – pretty please DO NOT LINK TO A SHOP!!! Be sure to visit your neighbors and have fun – it is a party after all. *Please note: If you link up you are giving me permission to use your photos on my blog without contacting you (don't worry, it's only to show off your beautiful stuff!)*
 
REMEMBER: To be featured on the Facebook page or on next week's party – you must have the link directly in your post. You can still link up with a link back on your party page or sidebar, but to get featured you must link in the post, m'kay?

Wellllll…. let'er rip, tater chip!


____________________