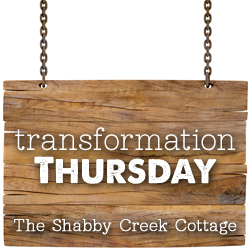 Welcome to Transformation Thursday! It's the one day of the week we all get together to celebrate getting stuff done. No matter if you've been coming around for weeks, months, years, or this is your very first transformation rodeo – everyone is welcome to link up your projects at the bottom of this post.


Gallery walls… is there anything better for filling up a great big space on a minimal budget? When Megan Brooke shared hers, it was just my style: Shabby, Aqua & AWESOME!
In the endless inspiration aisle there is always one key ingredient: DIY headboards. Karen tried her hand at making a stripe version, and I love the bold navy and white. Scoot on over to see her to see her genius idea for fabric!
If you're at Haven – FIND ME! I'll be there Thursday afternoon and would love to give ya a hug!
Now it's your turn!
Sooooooo……. whatcha got? I wanna see – and so does everybody else! Please put your PERMALINK into the linky – and link back here so everyone can find all the great ideas. Please, please, PLEASE – pretty please DO NOT LINK TO A SHOP!!! Be sure to visit your neighbors and have fun – it is a party after all. *Please note: If you link up you are giving me permission to use your photos on my blog without contacting you (don't worry, it's only to show off your beautiful stuff!)*
REMEMBER: To be featured on the Facebook page, Transformation Thursday Pinterest Board, OR on next week's party – you must have the link directly in your post. You can still link up with a link back on your party page or sidebar, but to get featured you must link in the post, m'kay?



Wellllll…. let'er rip, tater chip!