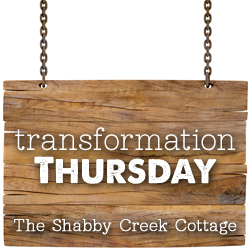 Welcome to Transformation Thursday! It's the one day of the week we all get together to celebrate getting stuff done. No matter if you've been coming around for weeks, months, years, or this is your very first transformation rodeo – everyone is welcome to link up your projects at the bottom of this post.

For a few months now, I've been doing things a little differently here on Transformation Thursday. I stopped sharing my own projects, and used the space to share yours instead. And guess what? It's FUN! I love highlighting your projects – those things you come to link up week after week. I try to keep it down to 2 highlights, but it never seems to be enough to hold all the talent that y'all bring to the table. So I made a brand spankin' new blog to share them!
Oh-My-DIY.com
is a whole site devoted to sharing your projects each and every day – sweet, huh? I'm currently highlighting at least one a day – all that come straight from the depths of awesomeness here on Transformation Thursday.
PLEASE make sure that you link your projects back in your post so that I can feature them, k? I only showcase posts that are generous enough to share a link back here on the blog. 
OH! And, if you're featured, feel free to grab a feature button from the sidebar of
Oh-My-DIY.com
Now on to your projects!!!
Sooooooo……. whatcha got? I wanna see – and so does everybody else! Please put your PERMALINK into the linky – and link back here so everyone can find all the great ideas. Please, please, PLEASE – pretty please DO NOT LINK TO A SHOP!!! Be sure to visit your neighbors and have fun – it is a party after all. *Please note: If you link up you are giving me permission to use your photos on my blog without contacting you (don't worry, it's only to show off your beautiful stuff!)* 
REMEMBER: To be featured on the Facebook page, Transformation Thursday Pinterest Board, OR on Oh-My-DIY.com – you must have the link directly in your post. You can still link up with a link back on your party page or sidebar, but to get featured you must link in the post, m'kay?
Welllll…. Let'er rip, tater chip!