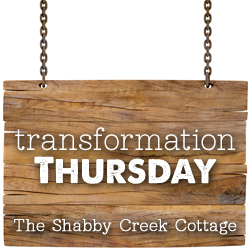 Welcome to Transformation Thursday! It's the one day of the week we all get together to celebrate getting stuff done. No matter if you've been coming around for weeks, months, years, or this is your very first transformation rodeo – everyone is welcome to link up your projects at the bottom of this post.


The weather is HOTTT here – and so were your projects from last week. Have mercy!
I'd ALWAYS rather be at the beach…. and Burton Avenue has the right idea with her cute & colorful beach sign. I agree – Life IS better at the beach 🙂
Summer means lots of fun, especially with food – like the Strawberry Cupcake Puppy Chow party mix from Cookin Food. NOM NOM NOM!!!
As for me this week? I shared how to make paper bag flower lights, a quick & cute way to use up those paper bags. 
Now on to your projects!!!
Sooooooo……. whatcha got? I wanna see – and so does everybody else! Please put your PERMALINK into the linky – and link back here so everyone can find all the great ideas. Please, please, PLEASE – pretty please DO NOT LINK TO A SHOP!!! Be sure to visit your neighbors and have fun – it is a party after all. *Please note: If you link up you are giving me permission to use your photos on my blog without contacting you (don't worry, it's only to show off your beautiful stuff!)* 
REMEMBER: To be featured on the Facebook page, Transformation Thursday Pinterest Board, OR on Oh-My-DIY.com – you must have the link directly in your post. You can still link up with a link back on your party page or sidebar, but to get featured you must link in the post, m'kay? 
Welllll…. Let'er rip, tater chip!