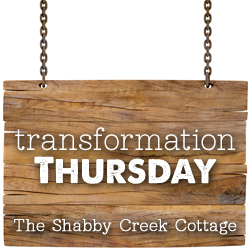 Welcome to Transformation Thursday! It's time to get together to give each other high fives for getting something done this week. No matter if this is your very first time linking up, or you've been comin' 'round these parts for weeks, months, or years – everyone is invited to link up at the bottom of this post.




 Let's see who brought it last week…


Erin at My Very Educated Mother made this cool twisted paper tree – perfect for Halloween. With some twisted paper, bottle caps and electrical tape. So, so smart! I could see a whole mantle of these…. 


Karin at Art is Beauty redid this gorgeous chest of drawers with a fern design. I love, love, love the color combo that she used. 


As for me? This week I'm in San Diego helping a friend makeover her apartment. I give all the deets on my post from earlier today 🙂
Now on to your projects!!!
Sooooooo……. whatcha got? I wanna see – and so does everybody else! Please put your PERMALINK into the linky – and link back here so everyone can find all the great ideas. Please, please, PLEASE – pretty please DO NOT LINK TO A SHOP!!! Be sure to visit your neighbors and have fun – it is a party after all. *Please note: If you link up you are giving me permission to use your photos on my blog without contacting you (don't worry, it's only to show off your beautiful stuff!)* 
REMEMBER: To be featured on the Facebook page or Transformation Thursday Pinterest Board – you must have the link directly in your post. You can still link up with a link back on your party page or sidebar, but to get featured you must link in the post, m'kay? 
Ready? Set? GOOOOO!!!!