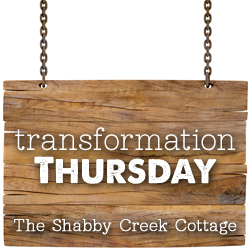 Welcome to Transformation Thursday! It's the one day each week that we all get together to give each other high fives for getting something done. No matter if this is your very first time linking up, or you've been comin' 'round these parts for weeks, months, or years – everyone is invited to link up at the bottom of this post.



I love, love, LOVE highlighting your work. Yes, that's YOU I'm talking to! But, my friends, here's the deal. Although there are sooooo many great links out there every week, I kinda have this rule that I'll only feature you here on TT or on Facebook or Pinterest IF you LINK BACK IN THE POST. I had to click off about eleventy billion posts this week that I was dying to feature because you didn't have a simple link at the bottom of your post. You don't have to use the button… just a regular old link will do! Please, please, PLEASE link back – 'cause I really do wanna show you off, m'kay???

So…. let's see a couple of folks who did share the link (and they have AWESOME stuff, too!)
Taryn at Design, Dining and Diapers shared this rustic style growth chart – oh – and it has a chevron pattern. Sigh. LOVE it!
Laurel at The North End Loft is smitten with chicken wire. Hmm… sounds like me, huh? She made over a plate stand into a tiered basket using the super cool stuff – and some spray paint, too!


And me? This week I've been sharing my adventures in San Diego last week, starting with the $75 bedroom makeover – stop on over and see for yourself 🙂
Now on to your projects!!!
Sooooooo……. whatcha got? I wanna see – and so does everybody else! Please put your PERMALINK into the linky – and link back here so everyone can find all the great ideas. Please, please, PLEASE – pretty please DO NOT LINK TO A SHOP!!! Be sure to visit your neighbors and have fun – it is a party after all. *Please note: If you link up you are giving me permission to use your photos on my blog without contacting you (don't worry, it's only to show off your beautiful stuff!)* 
REMEMBER: To be featured on the Facebook page or Transformation Thursday Pinterest Board – you must have the link directly in your post. You can still link up with a link back on your party page or sidebar, but to get featured you must link in the post, m'kay? 
Ready? Set? GOOOOO!!!!