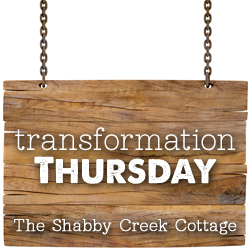 Happy Transformation Thursday! It's that one day each week were we all get together to give each other atta girls (or boys) for getting something done! Everyone is welcome to link up their DIY projects, crafty goodness, recipes and more at the bottom of this post – no matter if it's your very first time joining or you've been hanging out with me each months for years. You can find the link up at the bottom of this post




I know I'm a slacker, but after spending 16 hours setting up today for Bella Rustica, I am beat! Y'all can forgive me though…. right? We'll get back on track next week!


Sooooooo……. whatcha got? I wanna see – and so does everybody else! Please put your PERMALINK into the linky – and link back here so everyone can find all the great ideas. Please, please, PLEASE – pretty please DO NOT LINK TO A SHOP!!! Be sure to visit your neighbors and have fun – it is a party after all. *Please note: If you link up you are giving me permission to use your photos on my blog without contacting you (don't worry, it's only to show off your beautiful stuff!)* 
REMEMBER: To be featured on the Facebook page or Transformation Thursday Pinterest Board – you must have the link directly in your post. You can still link up with a link back on your party page or sidebar, but to get featured you must link in the post, m'kay? 
Ready? Set? GOOOOO!!!!