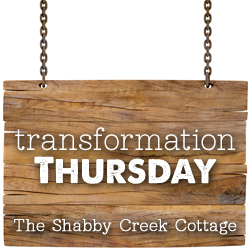 Welcome to Transformation Thursday! It's the one day we all get together each week to hang out and visit each other to celebrate getting something done. No matter if this is your first time hanging out here with us, or you've been joining in for years, everyone is welcome to share their DIY & crafty awesomeness at the bottom of this post.

I'm so excited that fall is finally in the air! Crisp weather, gorgeous foliage… it's just lovely – like your projects were last week.
If you're still gearing up for Halloween, these cute tomato cage ghosts might be just the trick you need to treat your porch to an adorable display. Crafty Misadventures shows you how to make them (it's super easy!)
But, if you need something more year round worthy, how about sprucing up your everyday book cases into something a little more glamorous? Remodelando La Casa has a great trick to share!

If you've dropped by here this week, you probably already know that I'm hosting a series of giveaways with a bunch of my bloggy buddies – and they're like the mack daddy of DIY giveaways. Be sure to stop by and enter The Everything AND The Kitchen Sink Giveaway, The Pin-acle of DIY Goodness Giveaway, and The Shut the Front Door to Hold it All In Giveaway.
Seriously, y'all – it's a total of nearly $15,000 in giveaway loot!!!
Sooooooo……. whatcha got? I wanna see – and so does everybody else! Please put your PERMALINK into the linky – and link back here so everyone can find all the great ideas. Please, please, PLEASE – pretty please DO NOT LINK TO A SHOP!!! Be sure to visit your neighbors and have fun – it is a party after all. *Please note: If you link up you are giving me permission to use your photos on my blog without contacting you (don't worry, it's only to show off your beautiful stuff!)*
 
REMEMBER: To be featured on the Facebook page or Transformation ThursdayPinterest Board – you must have the link directly in your post. You can still link up with a link back on your party page or sidebar, but to get featured you must link in the post, m'kay?

Ready? Set? GOOOOO!!!!

____________________