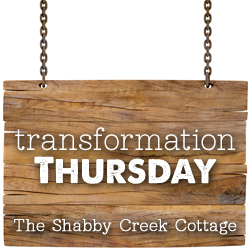 Welcome once again to Transformation Thursday! It's the one day each week we get together to celebrate getting stuff done. No matter if it's your first time here or you are a party regular, everyone is welcome to link up your DIY, crafts, tips & tutorials at the bottom of this post.
It is with a heavy heart this week that I've watched the devastation caused by Hurricane Sandy. As a lucky member of this blogging world, I have friends all over the world, including many dear friends in the area affected by the storm.
It feels only fitting that this week instead of sharing highlights from last week's party, I want to share ways how you can help the devastated area. Although there are many, many ways that you can help, I always tend to go straight to the Red Cross. As a recipient of their help in the past, I know that they are some of the first on any disaster scene. In addition to personal ties, I love that 91 cents of every dollar goes straight to help those in need (only 10% administrative costs – that's pretty awesome!)
Here are a couple of ways you can help:
*Give blood. Over 300 blood drives have been cancelled due to Hurricane Sandy. With the cancelled drives, plus the additional need due to storm related injuries, it's a crucial time to give blood.
*Donate money. Funds are the easiest way for them to get the necessary items for the victims.
 – To donate online, go to RedCross.org
 – To donate via phone, call 1-800-RED CROSS
 – To donate $10, text REDCROSS to 90999 to donate to Disaster Relief efforts.
Now… on with the show!
Sooooooo……. whatcha got? I wanna see – and so does everybody else! Please put your PERMALINK into the linky – and link back here so everyone can find all the great ideas. Please, please, PLEASE – pretty please DO NOT LINK TO A SHOP!!! Be sure to visit your neighbors and have fun – it is a party after all. *Please note: If you link up you are giving me permission to use your photos on my blog without contacting you (don't worry, it's only to show off your beautiful stuff!)*
  
REMEMBER: To be featured on the Facebook page or Transformation ThursdayPinterest Board – you must have the link directly in your post. You can still link up with a link back on your party page or sidebar, but to get featured you must link in the post, m'kay? 
____________________