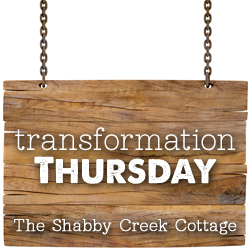 Welcome to Transformation Thursday! It's the one day of the week we all get together to celebrate getting stuff done. No matter if you've been coming around for months (or years), or this is your very first transformation rodeo – everyone is welcome to link up your projects at the bottom of this post.
Wow oh wow! Last week was such a blast – your homes look SO pretty all gussied up for the holidays 🙂 And so many great projects and ideas, too! This week I thought I'd share my Christmas tree.
It's pretty simple this year – clear lights, a few frosted glass ornaments, some grey gossamer ribbon and a few vintage tags were all that I used.
I bought the tags at my sweet friend Michelle's shop – a whole whack of them for $7. They already had a gorgeous real patina, as well as metal "strings" that we slightly looped for hanging.
A simple barn star for a topper…
and my reused book page garland for a skirt.
A super simple tree with a real vintage flair. I gotta admit, I'm loving the simple decor this year!
Sooooooo……. whatcha got? I wanna see – and so does everybody else! Please put your PERMALINK into the linky – and link back here so everyone can find all the great ideas. Please, please, PLEASE – pretty please DO NOT LINK TO A SHOP!!! Be sure to visit your neighbors and have fun – it is a party after all. *Please note: If you link up you are giving me permission to use your photos on my blog without contacting you (don't worry, it's only to show off your beautiful stuff!)*
Welllllllll…………. Let'er rip, tater chip!