Hey there, it is Emily from The Benson Street! I love that spring has sprung and summer is creeping up on us. What is warmer weather without a cool yummy treat? It is just plain hot. I love to cool off with cold treats. One of my favorite drinks is a Grape Julius! They are simple enough to whip up and help cool you off from the inside out. I've decided to try a new spin on a Grape Julius by creating a Grape Julius Popsicle. They turned out delicious.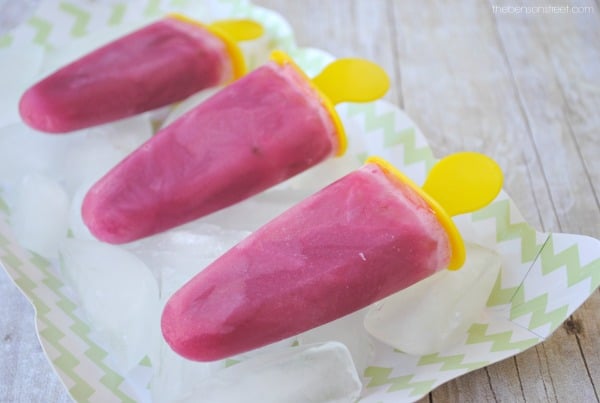 Make these with kids for a special treat all summer long. Get them involved by helping measure out the ingredients.
The other great thing about these popsicles is you can create them in an flavor of frozen juice concentrate you like. Orange, fruit punch, lemonade, etc. They will all turn out yummy!
Grape Julius Popsicles
Ingredients:
1/2 cup milk
1/2 cup water
2 tablespoons sugar
1/2 teaspoon vanilla
1/2 cup grape juice frozen concentrate (or any other kind of frozen juice concentrate)
5-6 ice cubes
Directions:
Combine all ingredients in a blender. Blend until ice cubes are chopped. Pour the mixture into popsicle molds. Insert sticks and freeze for 6 to 7 hours or overnight. To remove, run popsicle molds under warm water for 15 seconds. Slide mold off and enjoy.
If you liked this recipe, try these: