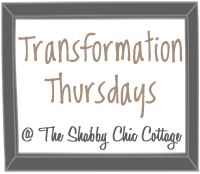 Welcome once again to Transformation Thursday! It's the one day of the week we all get together to celebrate getting stuff done. No matter if you've been coming around for quite a while or this is your first time, everyone is welcome to share their projects, big or small. Just link up at the bottom of this post.
Last week I tried to make my favorite go to Halloween cake. Now, I hope you take note that I think this is only the 2nd time I've ever shared a recipe, so it's gotta be something pretty yummy for me to do that. Although my cake looks and sounds gross, it really is awesome! Ready? OK!
You'll need:
A cake mix - yellow, butter, white - anything really light works best. Not chocolate - you'll lose the effect.
2 tubs of icing - any white one - NOT whipped
Cherry (or strawberry) pie filling
Cooking spray
Wax paper
Whatever ingredients the cake mix calls for
Black food coloring
An oval cooking baking dish
Now lets get to gettin'!
First make your cake mix according to the directions and add a TINY bit of black food coloring. Just a little on a toothpick will make it a brainy light gray.
I like Wilton food coloring gel. It lasts forever, doesn't change the taste or texture. It's $1.50 at Walmart and will make TONS of yummy stuff black.
Remember last week when I tried to make this cake and had a major fail???
DO NOT SKIP THIS STEP!!!!!
Spray your dish, line it with wax or parchment paper and spray again.
I REPEAT - DO NOT SKIP THIS STEP!
Then, pour in the mix, and bake at 20 degrees less than the cake mix says.
While the cake bakes, put two tubs of icing into a heavy duty ziptop bag and add a dab of black. It will take a tad more than the cake mix, but not much more. Remember you can always add, but not take away.
You won't need two complete tubs, more like 1 1/2, but since it's too hard to match the mix, make more than you need.
Carefully squeeze the air out of the bag, then knead the icing so that the color becomes even.
After you're done, stick it in the refrigerator, because cold icing is much easier to use.
Once your cake is done, flip it on a platter to cool (I stick mine in the freezer for about 20 mins).
Carve around the edge to round it off a little more (kiddos love the "scraps"), the slice the cake in half so you have two "layers."
Next, hollow out a big chunk in the center of the bottom, and a little in the "lid."
Now, put the pie filling in the hole. If you want it more realistic, you can puree it smooth. I like the "blood clots" - because it's a Halloween cake - it's supposed to be gross =)
Put the lid back on top (geesh - I'm beginning to feel bossy with all these steps!)
Ok, now take your bag of icing and snip a tiny spot of the corner
(remember you can always go bigger, not smaller.)
Making small S shapes, do one half at a time and cover the entire cake.
When your arm feels like it's about to fall off, you'll be done!
And when you cut into it - it bleeds! Pretty cool, eh?

Soooo.... whatcha got? I wanna see and so does everybody else! Just put your PERMALINK into the linky, and please link back here so everyone can find the great ideas. DO NOT link to an Etsy shop, online store or other selling venue. Be sure to say hi to your neighbors - it is a party after all.
Welllll..... let'er rip, tater chip!