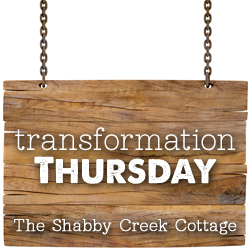 Welcome to Transformation Thursday! It's the one day of the week we all get together to celebrate getting stuff done. No matter if you've been coming around for months (or years), or this is your very first transformation rodeo – everyone is welcome to link up your projects at the bottom of this post.
 Earlier this week I shared my Valentine's Mantle with my barbed wire wreath embellished with these roses. Aren't they too cute? Oh and they're easy peasy, too! Wanna make some? You'll need…
felt – I used by the yard kind, 72 inches wide – found at Hobby Lobby for $4.49 per yard (at 25% off – and you can make 22-23 roses out of one yard)
yard stick, scissors & a fabric marking pen (not shown)
hot glue sticks & a hot glue gun (check out my over-worked well-loved gun)
Fold your fabric width wise in half, then in half again, so you have about an 18 inch whack of fabric. Measure 1 1/2 inches from the bottom, then mark it across and cut to get your strips.
Down one edge, run a thin line of hot glue and seal it shut, making a longggg skinny tube. Go all the way to the end matching it up and gluing it down.
Cutting into the folded side, scallop the edge all the way down.
It doesn't have to be perfect, those difference make it look even prettier.
Now place a 2nd layer of hot glue on the edge again (basically right on top of the other one.)
Then roll it up as tightly as you can.
Glue and roll… glue and roll… glue and roll all the way to the end.
And tada! you have a rose! If you're gonna do a bunch of these, I suggest getting your husband to cut the strips and you glue them shut, then cut all the scallops while you watch Sherlock Holmes or something (well, that's what I did anyways!)
And to attach them to the barbed wire wreath, I simply put a dot of hot glue in the center, laid a piece of jute twine, then a bit of scrap on top to hold it all together. Then I carefully threaded it through the wire and tied it off tightly.
There's a bazillion & 18 ways to use them to gussy up absolutely anything!
Sooooooo……. whatcha got? I wanna see – and so does everybody else! Please put your PERMALINK into the linky – and link back here so everyone can find all the great ideas. Please, please, PLEASE – pretty please DO NOT LINK TO A SHOP!!! Be sure to visit your neighbors and have fun – it is a party after all. *Please note: If you link up you are giving me permission to use your photos on my blog without contacting you (don't worry, it's only to show off your beautiful stuff!)*
Welllllllll…………. Let'er rip, tater chip!