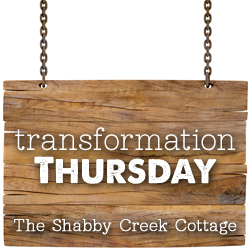 Welcome to Transformation Thursday! It's the one day of the week we all get together to celebrate getting stuff done. No matter if you've been coming around for months (or years), or this is your very first transformation rodeo – everyone is welcome to link up your projects at the bottom of this post.

A few weeks ago we decided to tackle our laundry room. It was like killing two birds with one stone: It marked the space off of my 2012 to do list and qualified for the Imagine the Impossibilities Challenge. I sooooo love multi-tasking!
We started by painting out the entire space in
Glidden's
Crisp Linen. I have to admit: It took four coats to cover all that leftover aqua. And I used Glidden Duo – but to go from bright blue to light cream took quite a few layers.
Check out my black back door… did you EVER think you'd see me use black to paint a door? I gotta admit I'm kinda loving it!
We brought back in our old island, which works perfectly as a folding station. Check out my new hamper – cheap as chips at $22 (found at The Home Depot), and holds an enormous amount of laundry!
And as for that surprise I've been tweeting about – we used corrugated metal on the wall behind the dryer, beneath our cabinets.
Speaking of cabinets, Mr. SCC did a beautiful job, no? We were going for farm house feel – and by George, I think we got it!
Some times form and function can be wrapped up in one little package – like in this hanging rod from Ikea. Now hanging space is right where I need it.
On the other wall, we removed the curtain, replacing it with our beloved bead board. The sturdy coat rack stayed right in place. Add in a black and white print, and I have a black and cream dream of a laundry space.
The miracle in this redo is not the fact that we did it in one weekend…. but as of this morning my laundry is 100% caught up! For the first time is like 5 years. WHEW::That feels good! Makes me wish we woulda done it sooner
Sooooooo……. whatcha got? I wanna see – and so does everybody else! Please put your PERMALINK into the linky – and link back here so everyone can find all the great ideas. Please, please, PLEASE – pretty please DO NOT LINK TO A SHOP!!! Be sure to visit your neighbors and have fun – it is a party after all. *Please note: If you link up you are giving me permission to use your photos on my blog without contacting you (don't worry, it's only to show off your beautiful stuff!)*
Welllllllll…………. Let'er rip, tater chip!