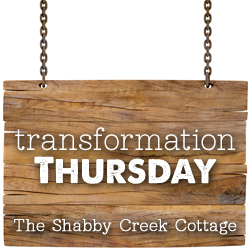 Welcome to Transformation Thursday! It's the one day of the week we all get together to celebrate getting stuff done. No matter if you've been coming around for weeks, months, years, or this is your very first transformation rodeo – everyone is welcome to link up your projects at the bottom of this post.

Last week's TT was chock full of creativity! We shared a few of them on Facebook – and you guys really liked Linda's beautiful post about curtains where she remembered her sister. Jump over to It All Started With Paint – but grab a tissue first!
Maple and Magnolia shared this gorgeous potting bench! All that yummy chippiness is to die for. Flowers might even be a little prettier when potted here!
Sooooooo……. whatcha got? I wanna see – and so does everybody else! Please put your PERMALINK into the linky – and link back here so everyone can find all the great ideas. Please, please, PLEASE – pretty please DO NOT LINK TO A SHOP!!! Be sure to visit your neighbors and have fun – it is a party after all. *Please note: If you link up you are giving me permission to use your photos on my blog without contacting you (don't worry, it's only to show off your beautiful stuff!)*
 
REMEMBER: To be featured on Facebook or on next week's party – you must have the link directly in your post. You can still link up with a link back on your party page or sidebar, but to get featured you must link in the post, m'kay?
Welllllllll…………. Let'er rip, tater chip!